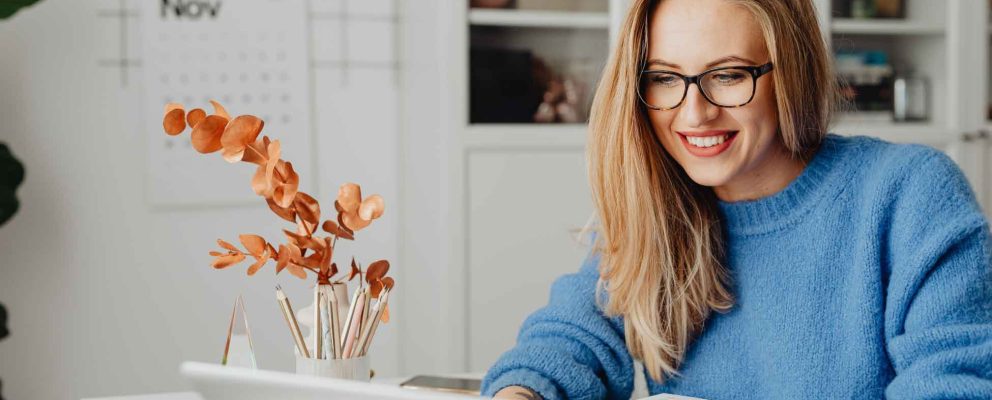 Solutions
Guest Management
Easily manage all guest requirements from sending quotes to automated booking payments, online guest registration, automated and triggered guest correspondence plus processing booking payments directly through Homhero.
Guest Management
Homhero is designed to make the guest booking process seamless.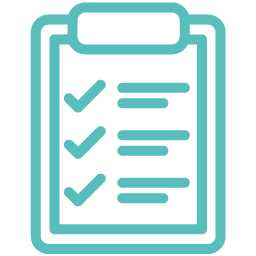 Online Registration
Guests can be automatically sent access to the online checkin / registration process via email with access to the guest portal. You decide if only guests who have completed the checkin process receive property access instructions.

Report Maintenance
Guests can access their guest portal from a time set by you. Once they have access and are checked in to the property, they can report maintenance directly from the portal. This includes adding descriptions & uploading of photos of the issue.
Automated Payments
Homhero will auto-charge the booking deposit amount to the guest credit card at the time of booking and also automatically sends a booking confirmation receipt directly to guests via email.

Online Payments
Guests can receive automated payment reminders via SMS and email. Reminders contain a unique link to make a secure payment with a credit card online through Homhero's secure guest portal. Credit Card surcharges will be applied to the charge amount automatically.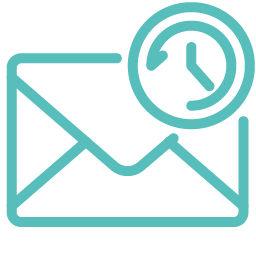 Correspondence History
Guest replies to Airbnb messages and SMS will show in the correspondence history. All other SMS and emails sent to the guest (automated & manual) will show under the guest communication history.

Review Management
Reply to guest reviews directly in Homhero via the Listing page, whether they are from direct bookings or a third-party OTA. Direct reviews will be published to your website via the Homhero API.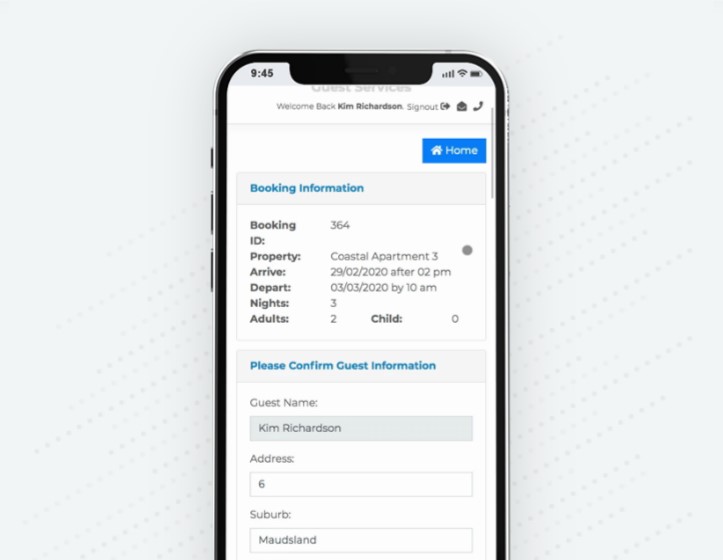 Check In
Online Registration
Guests receive a link that automatically takes them to the secure Online Registration Portal where they confirm guest registration information, upload valid identification and sign the property T's & C's.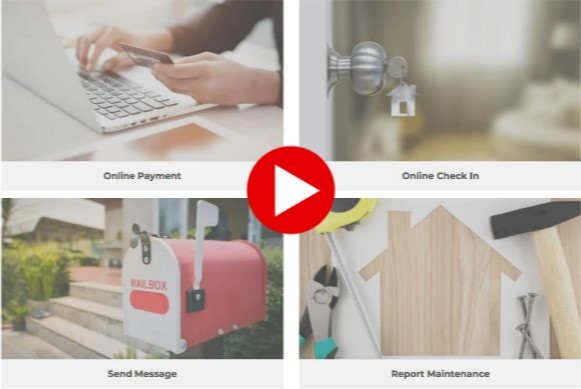 Check In
Guests can arrive fully registered for their stay
Use the status of the guest registration to trigger automated emails that send key locks or access codes for guest arrival. Only send arrival instructions to those who have completed the Online Registration and send automated reminders to those who haven't. You decide exactly what options are required by the guest upon registration:
Drivers Licence
Credit Card
Additional Guest Names & Mobile Numbers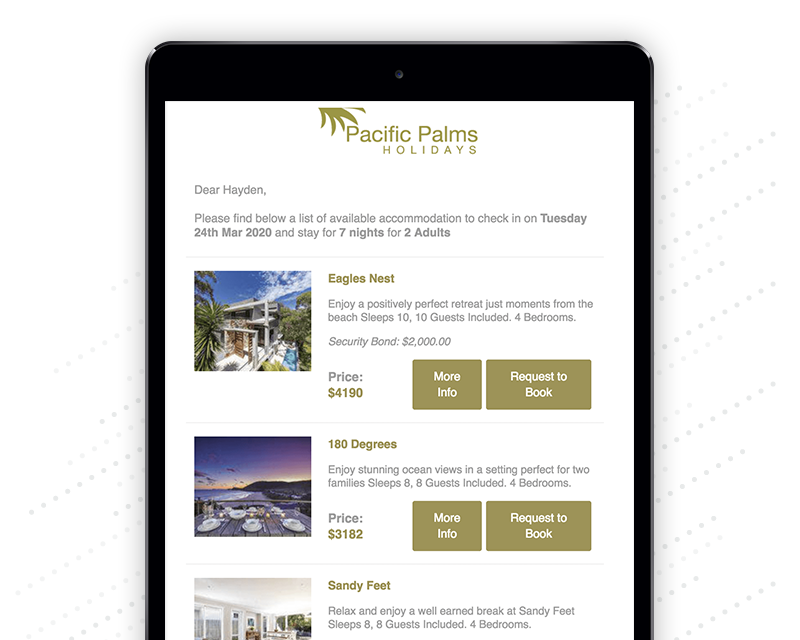 Lead Generation
Quote Emails
Homhero Quoting Engine allows you to search dates, locations, features, bedrooms, plus a whole range of options to find available and suitable properties for your guest. Select the available properties that match your search to send in a branded email to your guest, allowing them to see more information or book with the click of a button.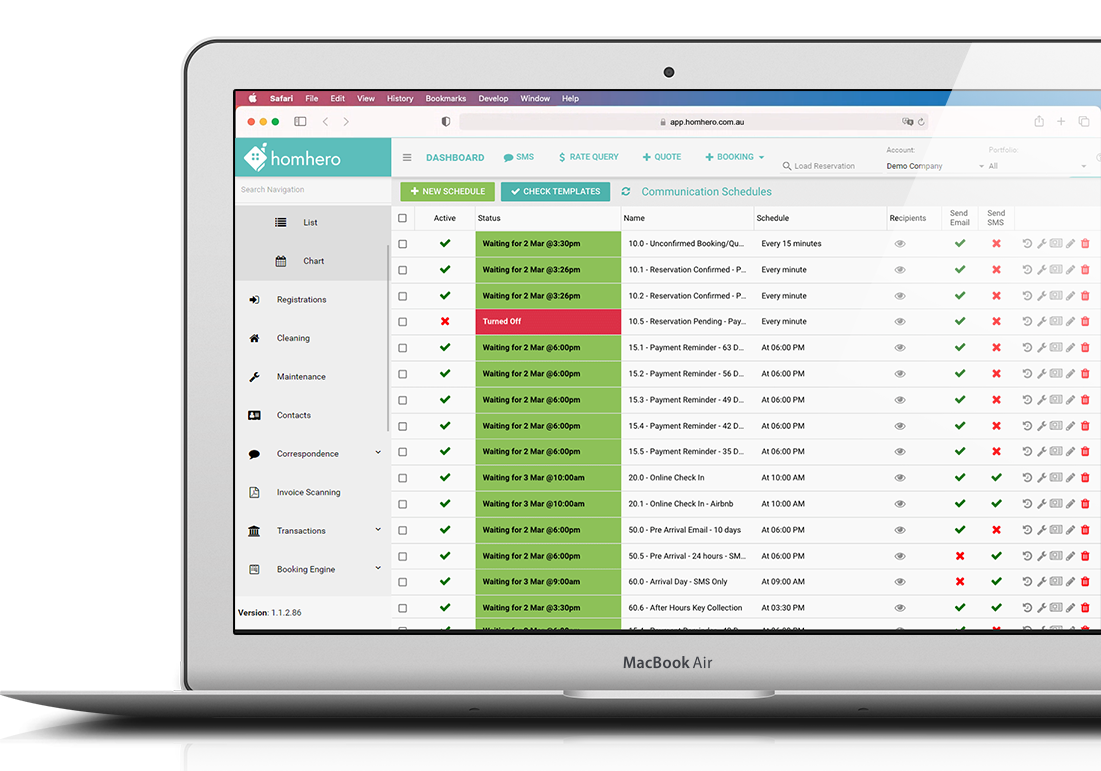 Communication
Automated and Triggered Guest Correspondence
Set up Email and SMS schedules to run based on the different stages a booking is in. Whether it's to remind guests on a Monday afternoon to take the bins out, or sending payment reminders – if it can be automated, Homhero can do it. Set triggers based on:
Contact Type
Online Registration Status
Reservation Status
Account Balance
Arrival & Departure Date
Property
Booking Source
Reservation Created & Modified Date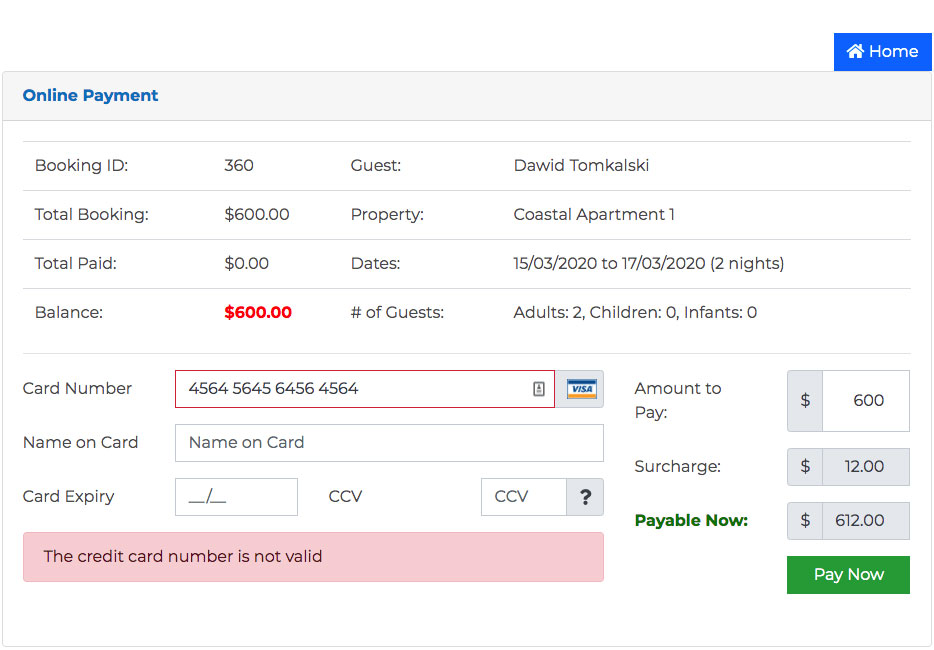 Payments
Online Payments
Guests can log into Homhero's secure guest portal to make payments online. Send automated email reminders with unique links for guests to share amongst themselves to pay off a booking.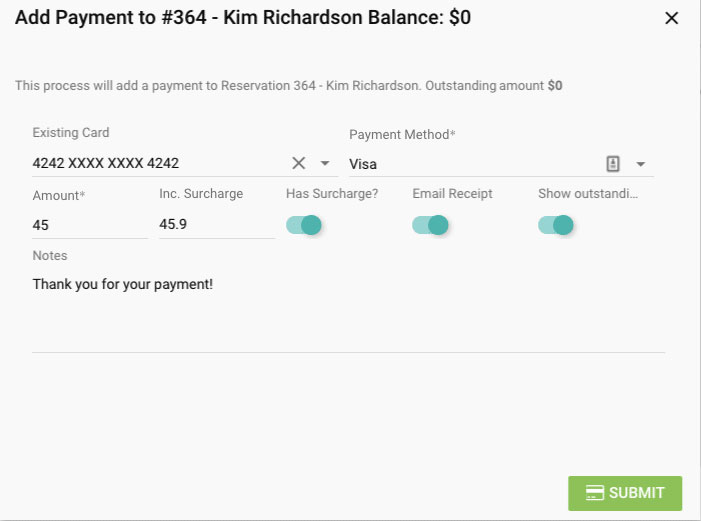 Payments
Take Direct Payments in Homhero
Easily take payments directly on a booking including credit card payments (via an integrated payment gateway), Cash Payments, Direct Deposit, Cheque and more. Here is a list of Homhero's integrated payment gateways:
SecurePay
Merchant Warrior
Windcave
STRIPE
NAB Transact
PayPal
eWay
Simplify (CBA)